BAI supports PCVP in elevating Feed Industry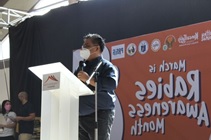 Bureau of Animal Industry (BAI) OIC-Director Dr. Reildrin Morales delivered his inspirational message at the Conferment Ceremony of the Philippine College of Veterinary Feed Practice, Inc. (PCVFP) on February 11, 2022 at the BAI-Veterinary Laboratory Division (BAI-VLD) Conference Room in the BAI Compound, Quezon City
Dr. Morales highlighted the importance of the agricultural sector to our country's economy and the livestock and poultry sectors significant contribution thereat. He described how exponential growth in human population, particularly in developing countries, coupled with urbanization and growing economies results to greater need for protein. This is derived mostly from intensively produced food animals such as poultry and hogs.
"When we produce animals for food, about 60% or more of the total cost is from feeds and nutrition. However, the animal feed industry has a lot of challenges of its own, both technical and regulatory aspect at the local and global level, which impacts both food security and food safety". On this note, Director Morales call on how PCVFP can take an important role as one of the government partners to address these challenges.
Founded in 1998, the PCVFP is a stalwart of food safety and food security through responsible and ethical veterinary feed practice. Among the distinguished veterinarians granted with a Diplomate status were Dr. Sharon Lorene Castro, Dr. Shiela Gatchalian, Dr. Joveth Vicenal and Dr. Noel Lumbo.
Also present in the ceremony are Philippine Veterinary Medical Association (PVMA) President Dr. Lino Abad, PCVFP President Dr. Edna Zenaida Villacorte, other members of the college and BAI officials and staff. ###